Bid for a Piece of the 100 Charity Art Signed by Eliza, Lindsey, and Marie!
Our next auction item is up! Fan art signed by Eliza, Lindsey, and Marie! All proceeds benefit Girls Who Code! Bid now!
#IdPickYouFirst – June is Women's Empowerment Month
#IdPickYouFirst – THE 100 CHARITY PROJECT'S FIRST JUNE FUNDRAISER TO BENEFIT STEP UP WOMEN'S NETWORK
This one is going to be in the same format as our very first fundraiser for #TheLivingAreHungry. All you have to do is donate any donation over $25 to suwn.org and forward your receipt to the100charityproject@gmail.com. Anyone who donates more than $25 will receive the above photo signed by Lindsey or another one of The 100 girls.

(Please include your mailing address when you forward your receipt. If you don't wish to receive a signed photo, send us your receipt anyway so we can add it to our tally for this month!)

Signed photos can be mailed anywhere and internationally. However, they are limited to the first 100 people who donate so get your donation in ASAP.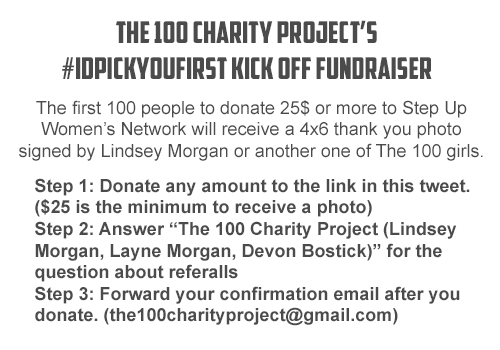 Source